Bio | Home | The Instruments | Hourglass | The Band | The Music | Tour Dates
Teardrop
---
Top
Butternut tops are my choice and are quarter sawn and dressed in my shop. I greatly enjoy the peace in my shop. I have some old growth Western Cedar that will make wonderful sounding tops. Each are quarter sawn and book matched. Both top and back are built with an overlapping lip.

Soundholes
Hearts

Fret Board
Quarter sawn Walnut, capped with solid Ebony.
Back and Side
Walnut is such a beautiful wood and I have been endowed by a wonderful man who loved his shop. For Bill, may he rest in peace. Each are book matched with detail to figure and grain. An Ebony strip is centered through the back and through the tail. I like the quality of these together musically and the beauty of these woods.
Head Piece
Mini Schaller or mini Grover tuners are mounted on a flat head piece.
An Ebony strip is centered through the head
Nut and Bridge
Deer antler is shaped into both the nut and the bridge. Each are slotted for three or four string set up.

Strap Buttons
Buttons are fixed at each end of the instrument.

Strings
End pins are for loop end strings only.
Intonation
Set up begins on a string length of 24 1/2" and string guages of .010/two melody, .016/middle or treble, .026wound/bass. These guages suit many contemporary dulcimer tunings. To accommodate players who wish to change string guages for personal styles of playing and tunings, I have made the bridge movable to allow settings in intonation to be adjusted.
The teardrop shape brings out a more dynamic strength to the sound of the bass and treble string.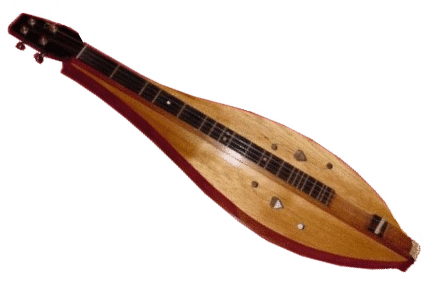 Price $ 500.00
This is one of the instruments I build. I take great pride in the handcrafted workmanship of each insrtument. I strive to make each instrument as similar to the next to insure the quality of sound in tone and volume.This instrument reflects my deep appreciation for the folklore of the dulcimer and is built with the earthy feel I have come to value from my travels throughout Appalachia. Coupled with my contemporary styling it offers a fine instrument to the dulcimer world.
---
© 2000 DarveauxDulcimers