Bio | The Instruments | Teardrop | Hourglass | Home | The Music | Tour Dates
---
Click Here For The Slight Departure Website
The Band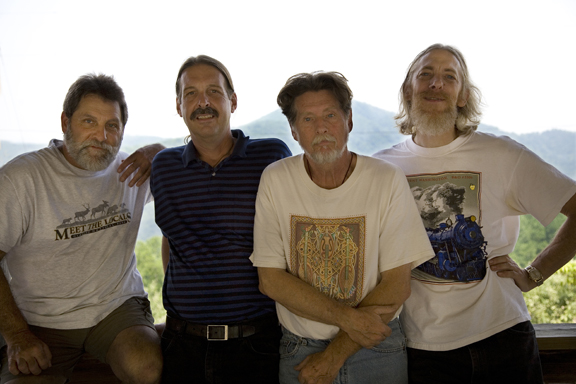 Slight Departure
Sherrill Keever, Jon Dana, Alan Darveaux, Jeff Haslam
Molly Barrett (not pictured)
(Photo by Maria Lloyd, maria.lloyd@bellsouth.net)
Contemporary acoustic quartet consisting of Alan Darveaux on dulcimer and autoharp, Sherrill Keever on guitar, bass, bowed psaltry, melodica, Jeff Haslam on mandolin, Jon Dana on bass.
'Slight Departure', Keever's name, came about from playing solo gigs at different places and working with Keever at our estate funded by the great state of North Carolina for our developmentally different adults.
We performed for a lot of functions on campus and in the community. Our practice led to becoming a duo sometimes called 'Duh Squared'. Jeff joined playing mandolin with no rules. We are slightly departed from a category of music. My background is in folk and contemporary folk singers. Keever grew up with the Beatles and Doc Watson. Jeff comes from 60's folk with Pink Floyd and Grateful Dead influences. Now the four of us offer a blend of fine harmonies and driving songs in ole time, contemporary, and original material.
Please contact me if you would like to engage our band in your event.
alandx@bellsouth.net
---
Copyright © 2000 DarveauxDulcimers